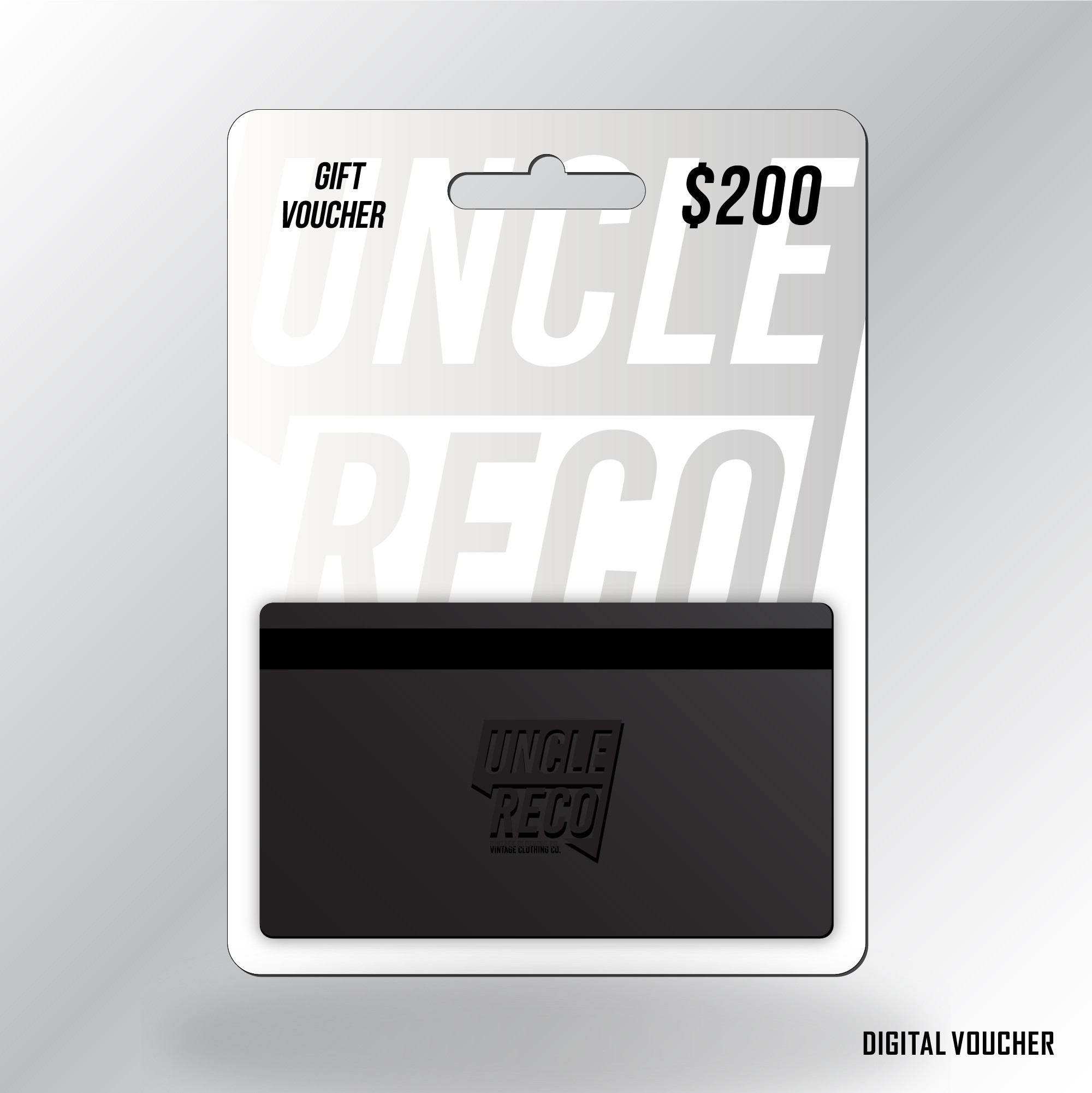 ONLINE STORE GIFT VOUCHER $200
[GIFT_200]
$ 200.00 AUD
or 4 payments of $50.00 AUD with

i

FREE DELIVERY
OVER $99

Easy
Returns & Exchanges

Priority Dispatch
Available
Free Shipping:
THIS PRODUCT IS ONLY FREE SHIPPING FOR AUSTRALIAN CUSTOMERS AND IS ONLY VALID ON THIS PRODUCT FOR A LIMITED TIME ONLY.
ONLINE STORE PRINTED GIFT VOUCHER AMOUNT: $200
ON COMPLETION OF ORDERING THIS VOUCHER WILL BE SENT TO YOU VIA EMAIL. SO YOU CAN PRINT/ FWD EMAIL IT AND GIVE IT TO YOUR FRIENDS AND FAMILY IN MINUTES AFTER PURCHASING. PLEASE ALLOW 5-10 MINUTES FOR IT TO BE IN YOUR EMAIL AFTER YOU ORDER PLEASE ALSO CHECK YOUR SPAM AS SOMETIMES IT MIGHT END UP IN THERE.
WE WILL NOT BE PRINTING THESE AND SENDING THEM TO YOU. If you require a hard copy sent to you please email us to request.
HOW TO USE THE GIFT VOUCHER ONCE RECEIVED: To use this gift voucher is easy, just choose the gift code option in the payment selection in the checkout section of the online store once you have selected what you want to order. If you wish to purchase more than your gift voucher please make the transactions separate and choose your alternative payment method.
VOUCHER VALID FOR SALES THROUGH THE UNCLE RECO ONLINE STORE ONLY. VOUCHER NOT VALID AT RETAIL STORES OR SALES THROUGH OTHER ONLINE SOURCES.
Shipping & Returns
We are not responsible for any international taxes or import duties your order may have when it enters your country from Australia.
POSTAGE:
We use Australia post for all our Uncle Reco online store distribution.
We ship worldwide from our distribution centre in Melbourne Australia.
We have 2 postage options: EXPRESS, AND INTERNATIONAL SHIPPING
We will send your items by your choosen postage option AFTER the 1-6 business days in printing and handling delay. Therefore if you choose and pay for express post you will still end up getting your item before a customer that has just chosen regular post.
If you pay for registered or express post you will have the luxury of a tracking number upon request.
RETURNS AND EXCHANGES:
We accept returns however the customer needs pay for postage back to us and then again back to them, please email us your order details before sending anything back to us so we can check stock levels of sizes or designs that you are swapping it for.
If an item is wrong by our error then please email us at sales@unclereco.com and a customer services representative will help you get your correct item sorted.
To check our size charts please see here: http://www.unclereco.com/sizes.html
If an item is wrong or damaged on our error we will pay for your postage back to us and replace the item for you at no further costs.
If you require an exchange, you have 14 days to contact us via email to organise an exchange, and 30 days to have to product/s returned to us from the recieved product date.
If you have not received your item/s within 30 days, please contact us immediately. Orders can not be reshipped or refunded if we have not been contacted within the first 45 days since the purchase date, due to Australia Post's tracking numbers expiring.
If your parcel is returned to sender by Australia Post for an incorrect address or after failing to be collected from the post office, we will email you notifying you of this. You will also be asked to pay for the shipping again when your item is re-sent to you. If you do not reply to this email within 14 days, you will forfeit the order.
REFUNDS:
Sorry unfortunately we are a small business and DO NOT DO REFUNDS for incorrect sizes or wrong products ordered, however we do offer exchanges. For size changes and products swaps, postage must be covered both ways by the customer.
We DO NOT offer exchanges or refunds if the product you ordered is out of stock or was a clearance item / lucky dip. We also DO NOT offer exchanges or refunds on womens swimwear if the hygiene patch has been removed.
We are very sorry for any inconvenience this has caused you.
If you have any further questions please feel free to email us: sales@unclereco.com
And While You're at It,
These Might Go Perfectly as Well